Dhiraj Mohan Das became the first President of NABBA/WFF India (National Amateur Body-Builders Association/ World Fitness Federation) in 2013.  It was the year when the India chapter of the leading bodybuilding and fitness organisation was opened.  NABBA was originally formed in the UK and later it became a global organisation and today it is apread over more than 100 countries.  In every country the national president of NABBA also becomes the national president of the WFF. Dhiraj Mohan Das is a former bodybuilder from Assam and has been involved in sports administration for a long time.  FitisFine.com talked to Das on various aspects related to  bodybuilding and fitness as well the fitness industry in general.
FF: How did you get into bodybuilding and fitness?
DMD: My father Ghanshyam Das hailed from a village called Suwalkuchi which is also a hub of the traditional silk industry in Assam. He was very close to late Premadakanta Sharma who was known as the Iron Man of Assam who also hailed from the same village. My father considered him his elder brother and respected him a lot. I would hear various stories about his strength and achievements from my father almost every day and since then I also developed a great admiration from him. I think this admiration for the legendary strongman played a role in developing an interest for strength training or iron games as it was called at that time. I started training after finishing school but initially my parents were not very supportive of my interest into iron games. I entered professional bodybuilding in 1988 and as I started getting accolades and also did well in studies my parents became supportive. I got 5th position in Mr. Saraighat in 1993 which used to be a national level competiton. In 1994 I got fourth position in Mr. Saraighat.  I also secured 3rd position in Mr. Assam. But after 1994 I had to give up active bodybuilding owing to job and other pressure but I came back to bodybuilding as administrator in 2004. In 2010 I became the treasurer of Indian Body-Building Federation and in 2013 I came to NABBA/WFF.  I feel that it is because of some good Karma in my past life that I entered into the amazing field of bodybuilding.
FF: What are the positive changes you have noticed in the field of bodybuilding and fitness in India today.
DMD: There was a time when it was regarded as a showoff. But today the perception has changed. Apart from being a sport, it has also become an Industry and this industry is now booming in India. Fitness has landed many men and women in lucrative jobs. In our times such openings were not there. Nowadays people are more aware of fitness needs and thus the need for proper fitness trainers etc is increasing. The scope of quality fitness centres, gyms etc are also increasing at a rapid pace. The social acceptance of fitness as an industry or a respectable and reliable means of livelihood is also gradually increasing. It was not possible when we started. Today a young man or woman can turn fitness into his or her profession. There are professional courses available on managing fitness buisnesses as well. You can get training on how to run a gym or fitness centre succesfully and professionally. Besides, People are getting attracted to the glamour associated with the field of bodybuilding and fitness. Another important aspect is the participation of women. There has been a rise in the participation of women in fitness competitions all over India including Assam and other parts of the Northeast which is a positive sign. There was a time when  women did not even watch bodybuilding and fitness competitions. Today we have women posing on the stages even in rural areas. I see a bright future.
FF: What would you say about the Northeastern region of India in particular.
DMD: The people in Northeastern India have a natural advantage in bodybuilding and fitness. We have seen many national and international stars from the NE in the field of bodybuilding and fitness as well as other sports. Especially Manipur has been a treasure trove in this regard. Apart from healthy food habits the people of NE have a genetic advantage. Their body structures, skin texture etc help the people of NE to excel in the field of bodybuilding and fitness. I think we can bring out more talents from this region and the NABBA/WFF is working on it.
FF: Tell us about the role of NABBA/WFF in developing bodybuilding and fitness in India and your personal experience managing NABBA/WFF.
DMD: NABBA/WFF is there to help bodybuilders and fitness athletes but we also believe in popularising it among the common people. In India, we have already been organising various national, state and district level competitions and I am happy to say that these competitions have attracted a lot of new people to take up bodybuilding and fitness. I am glad to say that we have been able to change the perception about bodybuilding and fitness to a large extent. We have also been successful in motivating a lot of women to compete in fitness competitions. There is also online help in the form of World Fitness Academy. We also help people connect to various other certification authorities.
As the national president I have to look after the NABBA/WFF activities all over the country but I am also very much attached to Assam because it is my home state. So sometimes it becomes a bit hectic for me. But the love and interest shown by people and makes me keep going. I would like to narrate a small incident. While conducting competitions, I have the habit of saying 'relax' after a contestant does his or her posing. Once I was conducting a competiton in Chennai. After hearing me say 'relax' for a few times the entire audience in the auditorium started shouting 'relax' after the poses. This is a kind of appreciation in its own way. It shows that they are noticing you and following you. These small things give you a lot of positive energy to keep going.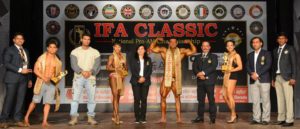 FF: What would you like to say on the importance of fitness.
DMD: When you love your body you do not have time to hate others. You are so mersmerised by your own body that you have too many things in your own body to keep you busy. Bodybuilding and fitness makes you feel positive and leaves no scope for negativity. The misconceptions that bodybuilders are dull headed has been proven wrong (laughs). There are a lot of highly educated people, doctors and engineers in bodybuilding at fitness today.  If you are fit you can do better in every other field. To bust stress and protect your health in today's lifestyle, you should at least take out one hour every day to keep yourself fit. Whatever you do you should do it regularly. Going to the gym once in a blue moon will not get you anywhere unless you pursue it dedicatedly.
Another aspect I would like to focus on is that the adolescents today lack physical activity. The testrosteron level is high between the age group of 14-15 to 22-25 usually. This testrosteron level needs to be balanced with pysical activity or it may result in the adolescents getting involved in negative activities. Today, the adolescents do not get much physical activity for various reasons. So spending one hour in the gym can be a good way to balance the testrosteron level at this age.
FF: What is your message to upcoming bodybuilders and fitness athletes.
DMD: you need patience. Muscles don't build overnight. It comes with a continuous exercise routine. Besides, other factors like adequate sleep, healthy lifestyle, diet etc also matter. Bodybuilding is the next level after fitness and it is more intense. Fitness is not expensive but bodybuilding is an expensive game. So everyone cannot afford it. Those who are highly dedicated, however, get opportunities to meet those expenses. For example, some supplement companies may come up to sponsor you if you if you have achieved something.
I would urge young people to come to this field with patience, dedication and loyalty. They should keep in mind that one needs to follow a proper exercise and diet plan as well as nutritional training which is customised according to his or her body.
I would also suggest them to be in touch with conservative bodybuilding. In conservative bodybuilding, it is the person who does the activity buit in modern machine oriented bodybuilding the workout is done according to the machine. I might sound a bit pre-historic but I would say that the longevity of the body is better in conservative bodybuilding than in case of modern machine oriented bodybuilding. Moreover most of these machines are desinged according to average American standards and they do not match average Indian body standards.
Another important thing is not to be swayed by the confusing ads and claims. Nowadays you will see just anyone posting a nice picture on social media with claims that he can turn people into champions in a very short time. We have seen several such incidents when people are being cheated by such self-styled experts. You must do exercise and there is no shortcut. Getting six pecks in three days or six days is bogus. Proper guidance under qualified trainer is the key. Never go for shortcuts. Always go for long term gains.
FF: It was a pleasure talking to you. Thank you very much.
DMD: My pleasure as well. Thank you very much.