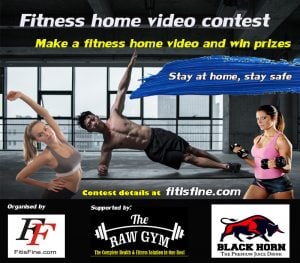 Fitness Home Videos Contest
Beat the Covid 19 crisis by staying home. Make a home fitness video and win prizes. FitisFine is organising a fun contest for fitness enthusiasts.
Make a one minute home video and win prizes and gifts from The Raw Gym and Black Horn Premium Juice Brand.
Where to send the videos
Send your Videos to our facebook page in message
https://www.facebook.com/FitisFine-178472956136107/
Important dates
Last date of video submission-
15th April


Voting closes on-

30th April.
Contest rules:
1. There is no participation fee for the contest.
2. The video has to be a 1 minute home video.
3. It can feature any  fitness activity.
4. The video should not include any unparliamentary, religious, political, racist or sexist language or reference.
5. The winners will be chosen entirely on the basis of number of likes their videos get on the fitisfine facebook page.
6. The last date of submission of the video is 15th April 2020. The contest will be run till 30th of April. No likes will be counted after 12 midnight of 30th April. The participants can share the link of his/her video from the fitisfine facebook page in order to get more likes on it.
7. The video has to be sent as a message to the facebook page of fitisfine from a genuine facebook account of the participant.
8. One person can send one entry only.
9. Entries must be accompanied by full address and a copy of valid identity proof.
10. The organizer reserves the right to cancel the entry of any participant.
11. Winners will certificates from fitisfine.com and gifts from The Raw Gym and Black Horn Premium Juice.
12. Some of the participants may also win free fitness photo-shoots and video shoots.
Supported by