He has ceated ripples many times in the stadium with his devastating pace bowling but this time he has created it on social media with his pic. The young pace bowler and death over specialist Jasprit posted an image of his six pack abs on twitter which has gone viral.
Bumrah, who is the latest one to join the six pack club of the indian cicketers posted the posted the picture on his Twitter account with a captain: "It takes dedication and hard work to consistently improve yourself
#stayfit  #RaiseTheBar".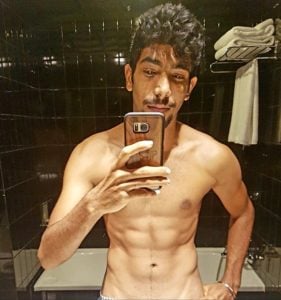 Of late the indian cricket team has been seen giving a lot of empjhasis on physical fitness with a very strict fitness criteria being brought into practice for team selection. Skipper irat Kohli is also a fitness freak and is considered one of the fittest cicketers in the world and it has inspired youngsters to follow the route.
Bumrah's pic has ceated a storm among his followers and it has been viral all over the social media sites.
He also posted a video with a caption: "Strength grows in the moments when you think you can't go on but you keep going anyway. Good session at the gym today".
Stay updated with our facebook page