Quinn Buragohain is a fitness athlete and model, diet consultant and trainer based in Guwahati, Assam. She is a two times NABBA/WFF Miss India Fitness and bronze medalist in Asian Classic Cup.Her journey is an inspiring story of dedication, passion and fighting back when fate lays down stumbling blocks on the path of life.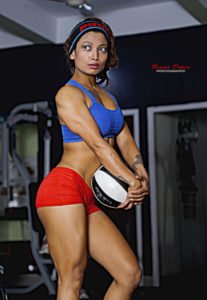 Since childhood, exercise was an integral part of Quinn Buragohain's life. Her father had taught her and her brother some workouts that he had learnt while working for the forest department. He was also a yoga enthusiast and he regularly practiced yoga at home with his children. She also took training in Indian classical music. Years later, when Quinn decided to hit the gym she just did not enroll in the first gym she saw after taking the decision. She set aside a whole day for searching the gym that would be most suitable for her. It was in the year 2012. After the daylong search she found a gym that seemed suitable for her and she enrolled in it. At that time she had no idea that she had just unlocked the door to a new life.
Quinn was born in Karbi Anglong in Assam but the family shifted to Jagiroad when she was three years old. She finished her schooling in Jagiroad and then shifted to Guwahati where she did her graduation from B. Borooah College. The fitness consciousness inculcated in her by her father at a very early age remained with her and she practiced yoga regularly. But at that time it was just to maintain health and fitness and getting into competitive fitness never crossed her mind. She was more into music at that time and was pursuing it seriously. Apart from releasing a few musical albums, she also became the first female DJ in Northeastern India. Life was going great and she had no complaints.
But life had some unexplained surprises for Quinn. Someone came to her life and she thought she had met the man of her dreams. They got engaged but after some time the man left her without giving any reason. "I did not know why he did that to me and I was depressed. Moreover, when the society sees a girl dumped, the fault is always hers. So I confined myself in my home for a long time. I did not want to face people." She says. It is at this time that her family provided the well needed support. She almost confined herself to her home for quite some time but a cousin convinced her to come out and accompany her to various places. Gradually she was getting over the setbacks as she occupied herself with various activities. One such activity she took up was to hit the gym.
It was in the gym that one day she saw a pamphlet. It was about a fitness competition. It was something new to her. She asked her trainer Yashwant Singh if girls were also allowed in the completion. He said even he was not sure. But he told her to keep practicing in case there are more girls and the organizers allow the girls to participate. It was the first competition she had participated and she was placed in the second position. It was in the year 2016. The same year she won the NABBA/WFF Miss Kamrup and NABBA/WFF Miss Assam titles. She also became the title winner in the IFA Classic national level championship held at Guwahati. She also clinched the NABBA/WFF Miss India Fitness title in 2016 and 2017. Her first international recognition came in the year 2017 when she bagged a bronze medal in the Asian Classic Cup. She is now preparing for the Miss Universe title in 2018.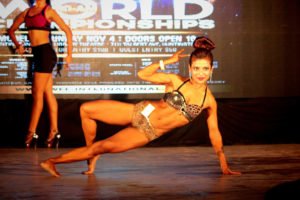 It is not an easy task for women to enter the field of competitive fitness especially in a country like India. In Assam, Quinn has inspired a lot for women and girls to enter this domain. Though there have been other women prior to her in the fitness competitions in Assam, Quinn is the most successful and known faces of women's competitive fitness. She has brought a new wave of professionalism into women's competitive fitness. In recognition to her contribution, Prakriti Suraksha Parishad and Mosfika Women's Welfare Society gave her the Iconic Women's Award 2018.
From fighting depression to becoming an icon for other women, the journey has been remarkable for Quinn. Today she is happily married to Arijit Bora who is her pillar of strength. She is very much grateful to her parents, her in-laws and Arijit for their support in her journey. "My husband has been very supportive and I am very lucky that he fully understands me and stands by me in what I am doing."
Quinn is very strict about maintaining a healthy diet. Every morning she starts her day with yoga right after waking up. Later on at around 11.30 she does other workouts. Her husband has also been influenced by her dedication to fitness and exercise is an integral part of his life too. "He started going to gym the day he proposed me and has vowed to continue the habit all his life." Quinn says.
Quinn believes that women should believe in themselves and have the willingness to march forward in life. "Women are embodiment of strength and they can achieve anything." Quinn wants to tell every girl.