She maybe 40 plus but she still can give tough competition to 20 somethings when it comes to fitness and looks. Former Miss Universe and Bollywood star Sushmita Sen is a well known fitness freak. She has posted her workout videos on Instagram on various occassions to motivate others about fitness and body positivity. The latest post is a selfie that shows her amazing rock hard abs post workout. With the picture she writes,  "Body shy? #NAH #bodyproud… tracking #workinprogress… Looking good is one thing… Feeling good is EVERYTHING!!!… #feelgood & yes take a #selfie when you do!!?? I love you guys!"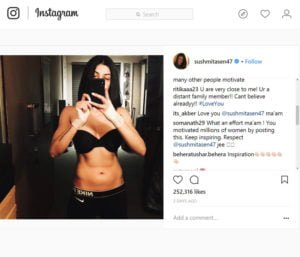 For years Sushmita has stolen hearts of millions by her grace, personality and physical attractiveness on and off screen. With her She has now become a fitness motivator for sure. We love you too Sush!
But this is not the first time that Sushmita has posted her fitness images and videos on Instagram.  Her pictures and videos give us a glimpse of the rigourous fitness routine she follows.