"I come from a middle class family in a small village. 'Becoming a hero from zero' has always been my motto and I have fought for it on my own. I aim has always been to create an identity of my own because creating your own identity is very important especially for girls." Says Rinkumoni Chetiya, fitness athlete and bodybuilder. Rinkumoni was born and brought up in a small village in Tinsukia district of the state of Assam in North-eastern India. She took up volleyball at a very young age and by the time she was 16 she was playing in the district level volleyball team. But an invitation to the opening of a gym in the nearby town had changed her life forever.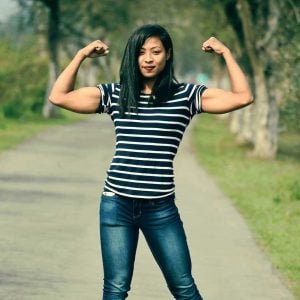 "I was into volleyball and nothing else but one day I got an invitation to the opening of a gym in Tinsukia town. The gym owner was my acquaintance. He advised me to enroll in the gym as it would also help me maintain my fitness for volleyball. I liked the idea and joined the gym from the next day. I would go for volleyball practice from 3 to 4 in the evening and from 4.30 to 5.30 I would work out in the gym. I was overworking as I did not have much knowledge about exercise."
"One day the trainer asked me if I would like to develop muscles like a bodybuilder and I said no. I said that I don't want to look like a guy and would rather have a slim girlie body." She says chuckling.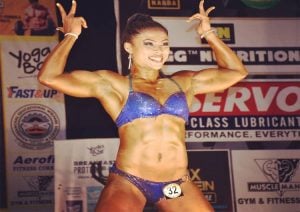 "I had always been hard working. To play volleyball I would travel for 12 kilometres from home every day riding a bicycle. After I joined the gym I started working harder. At one point of time I decided to take up a job. My first job was at the gym as a trainer. It was a meagre salary but I was happy and within a few months I bought a scooter." She says.
In January, 2018 Rinkumoni participated at a state level fitness championship and won the IBBF Miss Assam title in the fitness category. She also got the WABBA Miss Assam title in fitness in the same year.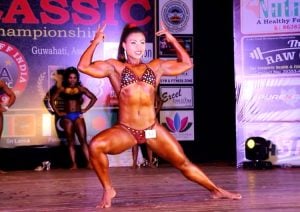 "Though I got selection for nationals I did not have any proper guidance or support. I would need better training but it seemed impossible because in a small village like ours, a girl from a middle class family does not get much support. But then I met NABBA/WFF Mr. Universe gold medalist Achyut Kalita at a state level completion. I asked him for tips and he agreed to help me. I started taking online coaching from him." Rinkumoni says. She was the first female trainer in her district and soon she was working as a trainer in three different gyms together. "People started knowing me after I won the titles and my popularity as a trainer increased." She says.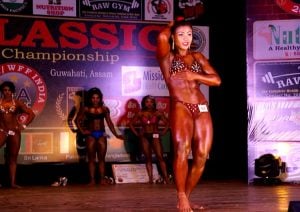 In 2018 Rinkumoni prepared the NABBA/WFF Mr. & Miss Assam. The NABBA/WFF India president Mr. Dhirajmohan Das suggested her to participate in the bodybuilding category because her body was fit for bodybuilding. "I was a bit reluctant at first. Fitness was ok but a girl developing muscles like a bodybuilder would not be accepted well by people in our small village. My family would also not support me because they would be scared that no one would marry me if I develop a muscular body." Rinkumoni says.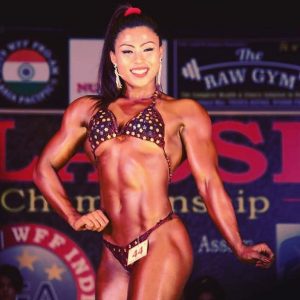 However she decided to take the plunge and with the help of her coach Achyut Kalita she prepared for the bodybuilding event. It was the first time in 2018 that NABBA/WFF Mr. & Miss Assam was introducing the Bodybuilding category for women. She won the Miss Assam title in the bodybuilding category and got selected for the nationals. In the NABBA/WFF Mr. & Miss India 2018, Rinkumoni got a silver medal.
After the nationals Rinkumoni decided to eye international championships and therefore shifted to Guwahati, the capital of Assam as it would be difficult to prepare for the international championships from the village. She is now working as a trainer at Guwahati and is also training under her coach Achyut Kalita. She has also won a silver medal in bodybuilding in another national level championship called IFA Classic held at Guwahati in the year 2019. "My aim is to go to the Mr. & Miss Universe." She says.
It has not been easy for a girl from a small and conservative village to pursue bodybuilding & fitness. Rinkumoni recalls her first time on stage. "It was not easy. I am from a small village and posing on stage in bikini was something that made me uncomfortable at first. I was shaking the first time when I was about to hit the stage. A friend of mine told me 'Just imagine that all the people in the audience and even the judges are animals and give your best smile when you pose.' It worked and my posing was good."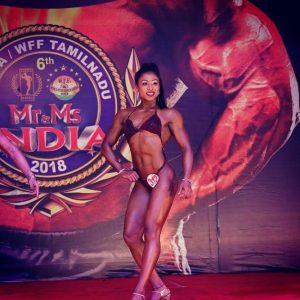 But he had to struggle for acceptance in the conservative society in the village. "My mother and brother did not like the idea of me participating in fitness and bodybuilding competitions. Neighbours and relatives were also not very supportive. But now they are all very proud of me. My aunt prevented her daughter from mixing up with me. But now aunt tells her daughter to learn from me. Some of my relatives reprimanded me for showing off my body on stage. I felt very bad but I did not give up. The same people are now very proud of me. Their mentality has changed because I did not give up. If I had given up, it would have never been possible." Rinkumoni says.
"Many girls and women don't feel confident about being muscular and tough. They feel they will not get approval from males if they become muscular. There is nothing to be ashamed of being a muscular woman. It is in fact a matter of pride if you are stronger than even some men." Says Rinkumoni.
Achyut Kalita's Journey From Growth-stunting Childhood Trauma To International Bodybuilding and Fitness