The first Guwahati Fitness Awards was organised by The Indian Awaz on 21st April at Hotel Palacio at Guwahati. The event saw the participation of a large number of fitness enthusiasts from all over the city. Bibhumoni Singha, Director of SFL Fitness Gym, Sangita Bora, Director of Universal Fitness Training Academy were present as the Chief Guests on the occassion.
The awards were given in three categories- Best Gym, Best Fitness Trainer and  Best Fitness Freak. Ankur Das, Yanpvus ezung, and Purno swargiary won the title of 'Best Fitness Freak Male 2018' while Gauri Khatun won the title of 'Best Fitness Freak Female 2018'.
In the Budding Fitness Trainer category the winners were Tandramoni Kumar, Nipin Rabha, Rakesh Mandal, Prasanjit Karmakar, Archana Thakuria, Parul Basumatary and Manas Daimary.
Biofit Gym Ganeshguri, BS fitness,   Urban Fitness, Aero Fitness,  Gym Point and Chisel Digaliphukhuri were the winners of the Best Gym Awards of their respective regions.
The Lifetime Achievement Award went to Bidang MMA & Fitness Gym
The Raw Gym won the title of the Outstanding Gym of 2018.
TM fitness, Invincible Dance Studio , Extreme Fitness, Musclemania and Biofit Bharalumukh were the winners in the Best Customer Service category.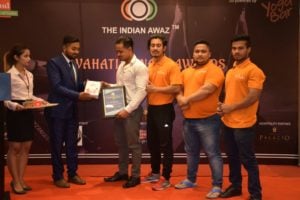 Nazim Ahmed, Founder of Indian Awaz also announced the launching of the Indian Awaz Foundation as part of social intitiative by The Indian Awaz. The Indian Awaz is a digital branding and promotion platform that aims to provide recognition, motivation and awards to Indian brands.
While speaking to FitisFine.com, Nazim Ahmed said, "This is an effort to provide a platform to the fitness community and to provide recognition to the evolving fitness industry in the Northeastern Region of India. In future we plan to expand this event to the entire Northeastern region."
The event was sponsored by Amul and co-powered by yogabar in associated with SFL Gym. Other brands involved were- Knowledge Partner: Universal fitness Training Academy (UFTA), Radio Partner: Radio Gup-Shup, Media Partner: Time8, Hotel Partner: Hotel Palacio.